It's no secret that I am a fan boy for the Desert Tech Stealth Recon Scout, I have spent the last few years getting intimately familiar with its virtues. I have had the chance to use the SRS in many different applications, including hunts of all kinds, as well as competitive, and long range shooting. Today I am writing about one of the many reasons why the SRS system, with its seemingly unlimited options has replaced every other rifle in my safe.
I jumped onto the 6.5/.264 bandwagon a couple years ago, it was a 26" 260 Remington that sealed my opinion of the .264 bore. That original barrel has around 3000 rounds on it, and the bullets it has fired have crossed untold miles of cold mountain canyons, and hot desert plains.
The 6.5 lineup has grown over the years, too many to mention here, but the bulk of the work is done by the 260 Remington, 6.5 Creedmoor, and the 6.5X47 Lapua. We could debate for days (and we often do) about which one of the three is best, and why. But today, I have chosen to focus on the 6.5 Creedmoor.
Being that I started on a 260, I was slow to see the value in the Creedmoor. It does basically what the 260 does, but with a shorter OAL. As quality components became available, the Creedmoor had all it needed to take over.
I had my first opportunity to shoot one, when I was offered a box of the newly released Desert Tech Munitions Premium Match 6.5 Creedmoor. I have shot plenty of DT's 308 match ammunition, so I expected good things when I opened the box.
I appreciate the aesthetics of properly manufactured ammunition, and the Creedmoor loaded by Desert Tech is a perfect example. Clean and smooth edges, the discoloration of annealed brass, and a uniform presentation that gives a consumer confidence. Looks certainly are not everything when it comes to ammo, so I wasted no time getting to my shooting position.
It was a cool and breezy evening, a snow storm was inbound, threatening to soak my target, my SRS, and of course me. None the less I hiked with purpose to the spot I go to when time is short.
A quick shot of the rangefinder confirmed my one hundred yards to the target, I found a comfortable position with a good solid rest.
The barrel I was using to test this ammunition was virgin, I had only finished its assembly an hour or so before I left work. So a zero had to be achieved before any accuracy testing could be done.
I opened the first box, and loaded ten rounds.
My first shot landed about 1.5 inches low, I measured with my reticle, and made a corrective adjustment. The next 8-9 shots went into one ragged hole, and but for one shot that I knew was bad when it broke, it was as good as anything I'd ever shot previously. That is of course not saying much, as I'm terrible at shooting groups. But even for me, it seemed quite easy to stack shots on top of each other. I continued to shoot five shot groups one after another, I was more than happy with the patterns that this ammo made, through this brand new barrel. I'm very interested to see how it does after its broken in.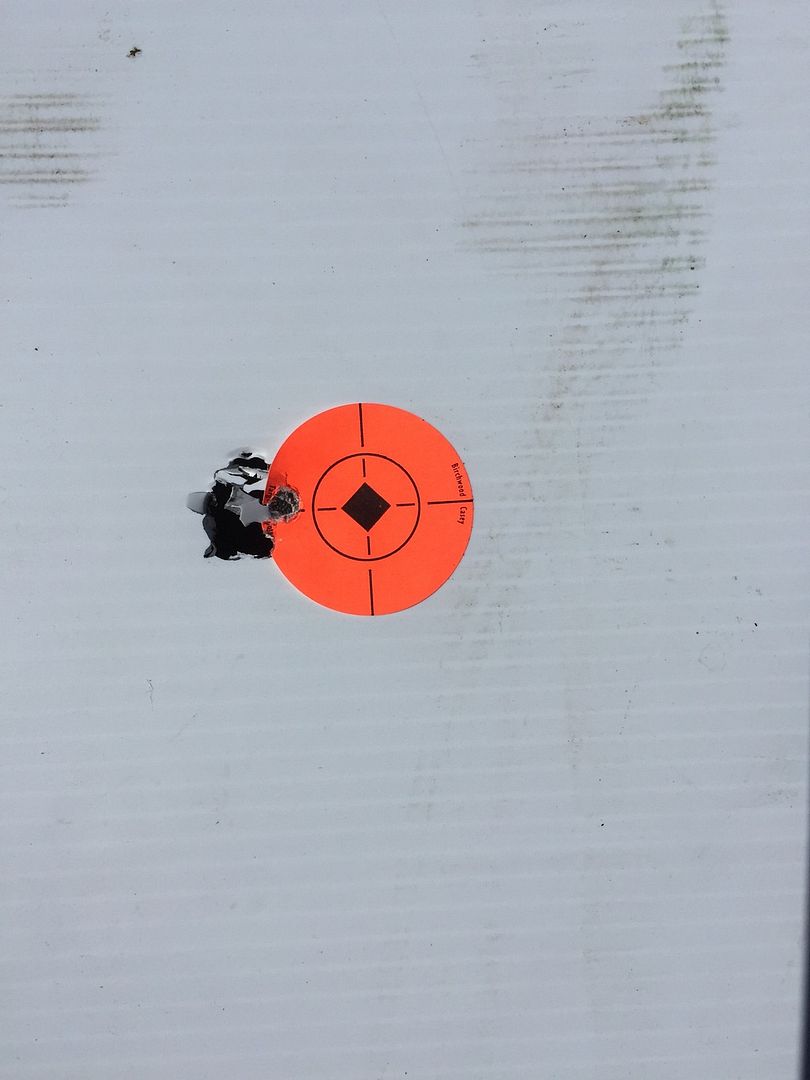 After shooting a few boxes of ammo at 100yds, I called it a day. The snowy weather was making it hard to see anything, and the wind was starting to get worse. So I retreated back down the mountain trail, suspending my testing temporarily for a better day.
As soon as permissible, I made my way back up into the mountains. A few days had passed, and the blue sky stretched as far as I could see across the valley. I made my way up the winding mountain road, my ATV laden with a days' worth of gear, snacks, and snow. As I climbed higher and higher, the snow got deeper. But silence and solitude was the reward. When I finally found the spot I wanted to shoot from, I had gained nearly 3,000 feet more than my first outing with the Creedmoor. Nothing but a light breeze and sunshine at that altitude.
Again I setup my target at 100 yards, and did a quick zero test. I was pleased to see that my cold bore shot was exactly on my point of aim, and the several shots that followed were right on top of it. Happy that nothing had changed since my last outing, I decided to push the Creedmoor out a bit further. I started at 642 yards, I wasn't about to walk that far in the deep snow. Instead, I found a small cube shaped rock on a small exposed piece of dirt across a long draw. I estimated the rock to be two or three inches in width, a reasonable sized target for that range. So I set to getting the wind and elevation for the shot. I wanted to see how close the come ups listed on the box were to actual , so I made an estimation from the data printed there, and made a wind call. I loaded the magazine as I went over everything in my head, then settled in behind the rifle. I focused on my trigger pull, and broke the shot, the impact was right at the base of the small stone. I made a small correction hold, and sent three more shots at the rock. All of them found their mark, smashing the rock, and sending its pieces rolling into the snow below.
I repeated the process at 860 yards, and again at 970. I was very impressed with the accuracy, shot after shot was right where I had aimed. And when it wasn't, I knew it before the rifle had finished recoiling.
Obviously, I am a bit biased in most of my opinions here. But I can certainly say without any bias, this is the most accurate factory ammunition I have ever shot. Consistency is king in this game, and I cant wait to keep stacking shots in the black with this Creedmoor.