Here is my new barrel, a SAC special
---
Nice mate, especially with that break on it, cannot wait for a range report
---
Posts: 181
Joined: Tue Jan 03, 2012 5:50 pm
Contact:
@archaos looks great. I'm interested in hearing how it shoots as well...
---
As soon as the new scope arrives I will be off, if its anything like my 308 barrel I will be very impressed. I have some 260gr and 350gr loads all ready for testing.
---
here is mine had a blast shooting it yesterday. .338 lapua 5X25 TPAL USoptic, AI mount , and home made mono pod. the bi-pod is a cheaper one from TDI and seems to be holding up so far.
---
Nice mono-pod Luna, I saw your post on the Hide. Great bit of work, I have been toying with an old atlas mono-pod and using its internals. Nothing done yet but your has brought back the inspiration.
---
ty im glad you like it
---
Posts: 181
Joined: Tue Jan 03, 2012 5:50 pm
Contact:
looks great Luna. .338 will make almost any bad day better
---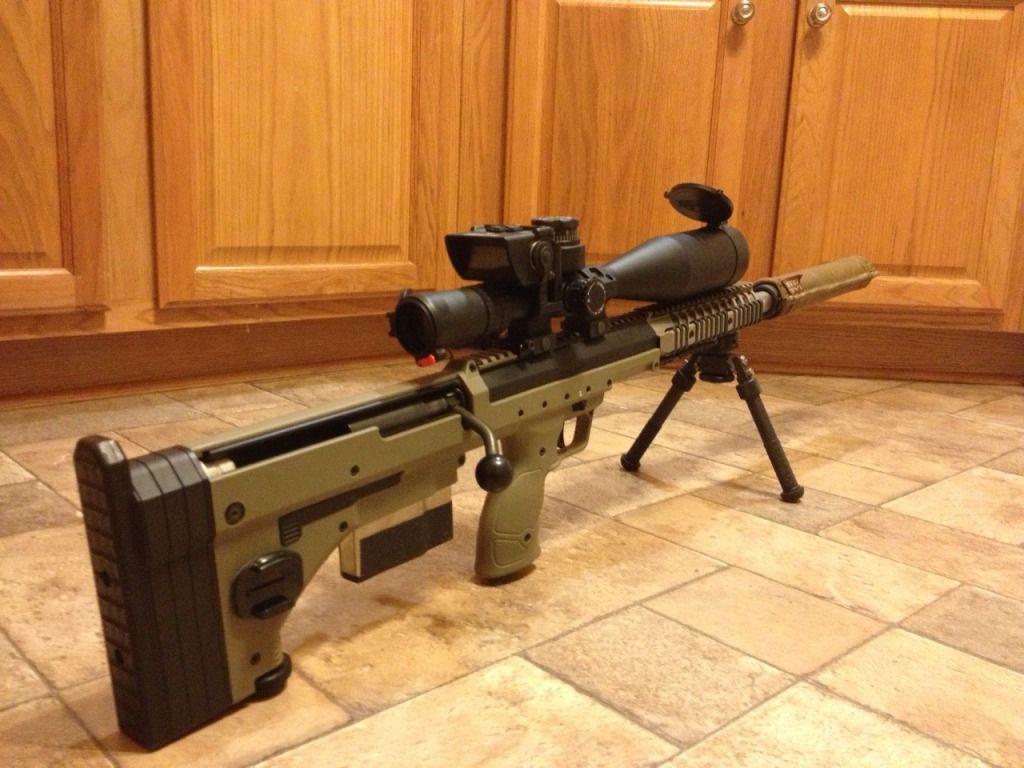 Here is one of my 2 DTA's. This one is strictly for all my SA and the other DTA, not pictured, is for my LA.
Both are SRS's and my caliber collection consist of as followed:
243
260
6.5 cr
308
6.5x47
7mm SAUM
300 wm
338 LM
Needless to say, I love them both. I also have a few mods done on my SA DTA. I machined the quad rail for clearance of my Shark suppressor, and the magazines have been modified to hold 9 rounds of SA's only. The NF BORS combination works wonders with the barrel conversations. I simply scroll through my menu of calibers, rezero, and off we go.
I'm glad to see this forum. I beleive it'll help keep up with the DTA guru's only.
---
Nice looking rig snyper, I must say I got rid of my BORS, to painful, it was a product that had much promise but didn't deliver
---